Matches at global events involving India are always special occasions and they require special preparation. An extra hour should be set aside just to get to the stadium, never mind into it. The India/Pakistan match at Old Trafford a couple of weeks ago was truly extraordinary – the ICC received just under 900,000 applications for the 24,500 tickets available.
There were an estimated 5,000-7,000 fans from both countries in the immediate vicinity of the ground during the game unable to purchase a ticket ('informally') but determined not to miss out on the atmosphere. Their presence was commonly misinterpreted as a malfunction with the entrance procedure. The truth is that they either could not afford – or find – any of the 100 pound tickets which were selling for upwards of 2,000 pounds.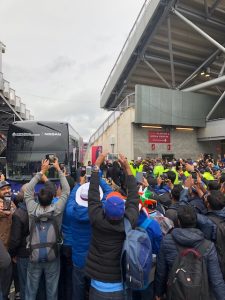 There were thousands more unticketed Indian supporters before the semi final against New Zealand which made logistics tricky. It took an hour and 15 minutes to park at the designated area (at Old Trafford Football Stadium) and get to the cricket stadium with hundreds of taxis and distracted fans blocking roadways for teeth-grindingly long periods of time.
International Indian supporters are, at times, confusing. Actually – it is the nature of their support which is a challenge to understand. So, apart from the local residents, the majority of Indian supporters come from elsewhere. And we're not talking about other English cities. Or European. We're talking Dubai, Montreal, Chicago, Peru and the Philippines. They are extremely wealthy people whose motto is 'how', not 'how much.'
Their support for Indian cricket – and devotion to its superstars – can seem incongruous to members of other 'middle classes' in other nations, as it did to me for many years, but it actually defines the relationship between the supporters and the team.
Some Indian businessmen had paid 40,000 pounds for a small suite for the day and would have paid considerably more. The limit was some distance from being tested. Yet the same men and women, and their guests, were crushing up to 20-deep outside the exit to the players change rooms after the day's play, doing all they could to get what was once an autograph but has now become a 'selfie'.
Their parking bays were considerably closer to the stadium than mere 'broadcast rights holders'. We were just over two kilometres away, in the furthest car park at the 'real' Old Trafford. But for those prepared to explore the extra distance rather than endure it, the experience was memorable – involving a trip down the 'Munich Tunnel' which serves as living tribute to the tragedy of the Busby Babes.